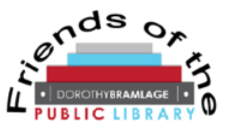 Friends of the Library
Friends of the Library is a nonprofit, charitable group that supports the library through fundraising activities, volunteerism, and public awareness campaigns. Library Friends have the opportunity to have a greater voice in the programs, collections, and services the library provides.
New members are always welcome and joining is easy. Simply complete a short form and submit with your dues. Choose your level of support with membership categories that range from $10 to $100 annually or a Lifetime Membership for a one-time payment of $300. Dues can be paid by mail and in person at the library. They can also be paid from this website with a credit card by clicking on the payment button at the top of this page.
The friends is governed by a volunteer board of directors that consists of nine to eleven members. The current board includes:
John Triplett, President
Stephanie Stremming, Vice-President
Susan Moyer, Secretary
Kelly Landes, Treasurer
Linda Bongers
Tom Brungardt
Shelley Hoyle Kite
Crystal Rankin
Mother Doreen Rice
Renee Spellman
Ricardo Vieyra
Anyone interested in joining the board should contact Susan Moyer at (785) 238-4311 or susanm@jclib.org.