Books, Audiobooks, DVDs, Etc
The library offers thousands of hard copy books, audiobooks, and DVDs for all ages. From picture books to easy readers, graphic novels to young adult fiction, and adult fiction and nonfiction to large print novels, there is something for every reader at every level. A small collection of newspapers and magazines is also available. Click HERE to search the library catalog for your next great read.
Need help making your next selection? Ask for a copy of the latest issue of Book Page on your next visit or visit NoveList for the scoop on books, authors and more. For the mystery genre, Stop, You're Killing Me! is also a great site to help you read a series in order and to learn the other series and pen name of your favorite mystery author.
Kansas Talking Books provides personalized library support and materials in a specialized format to eligible Kansas residents to ensure that all may read. This no-cost library service features:
Audiobooks, audio magazines, braille books, and braille magazines mailed directly to your house and returned postage free.
Special equipment lent to you at no charge.
A collection that includes romance, mysteries, bestsellers, science fiction, westerns, biographies, fiction, children's books, young adult books and more.
Find your next good read and get library help by calling
(800) 362-0699, Monday through Friday, 8 a.m. to 5 p.m.
Download books and magazines from the Braille and Audio Reading Download (BARD) website or by using the BARD Mobile app.
For additional information call (800) 362-0699 or (620) 341-6280 or visit https://kslib.info/153/Talking-Books
Digital Books, Audiobooks and DVDs

Audiobooks & e-Books
Download eBooks, audiobooks, and movies for your computer or mobile devices. Kindle friendly!
Log in using your full Dorothy Bramlage Public Library card (14 OR 5 character) number and a pin of your choosing. If you have any questions please contact Reference Staff at reference@jclib.org, (785) 238-4311, or visit the reference desk.
Check out the Sunflower/Overdrive app Libby! (For Android, iOS, and Windows PC)


Digital Movies, TV shows, Music, and Audiobooks
Patrons with an active Dorothy Bramlage Public Library card can now borrow free movies, TV shows, music albums, ebooks, and audiobooks through hoopladigital.com. Sign up online with your library card, then log in on your mobile device or PC to browse, borrow, and enjoy.
Patrons are allowed 10 check-outs per month (TV shows are checked out by the episode: one episode = 1 check‑out).
WARNING: Check-out is NOT restricted by age.

TumbleBooks
The TumbleBook Library gives families free access to children's books, videos, puzzles and games using any web-enabled device. It provides a safe place for kids to browse and read books by their favorite authors. All books are instantly available, with no need to place a hold or check them out. Click here to begin.
Databases for Reading, Recreation and Research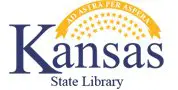 Click here to navigate to the State Library of Kansas site where you can access research databases for school work, art, auto repair, health and medical, etc.; genealogy databases for family history research; language learning; and online/e-books for kids and adults.
This website requires an Internet Service Provider address in the state of Kansas to use. If you cannot use the links, you will need to log in with your Kansas Library eCard
This popular database provides the full-text of acclaimed and authoritative journals, magazines, and other valuable resources.
For databases aimed at kids grades K-9, click here.

Want to take a class? Learn something new? The Kansas State library's Universal Class is the place to go! From accounting, office skills, test prep, and teacher resourses. They have a class for almost anything.

Mango is an online language-learning system that can help you learn languages like English (for non-native speakers), Spanish, French, Japanese, German, Mandarin Chinese, Russian, Pirate, and more.

Learning Express Library is an interactive learning center for students of all ages, from K-Adult. Practice tests and skill building are available once you register for an account.
"Centers" include Adult Learning, Job & Career, High School Equivalency (GED), College & College prep, and Recursos en español.
Search the library catalog anytime for items that the library owns and if they are currently available. You can also set up your online account so you can submit requests to renew and reserve titles. Click HERE for the catalog.